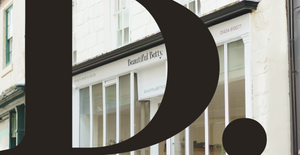 Ethical, Sustainable & Conscious Beauty Salon & Beauty Shop.
We are Hexham's (& surrounding area) first ethical, sustainable & conscious beauty salon & beauty shop.
Bringing serenity to our urban retreat, decked out in neutral tones and leafy green plants to bring nature in for a more calming experience. We are a team of highly motivated women with a wealth of knowledge and a passion to learn. Our team have committed themselves to the continual growth and evolvement of what we hope to be the best of beauty.
Beautiful Betty was born from an idea that 'this girl can' and a belief that Beauty isn't just skin deep, it is being the best possible version of yourself, how you live and the impact that has on the planet.
Our values are etched out in every aspect of our salon & shop, whilst delivering luxury beauty treatments which do not negatively impact on the environment. Together, we can make positive change to the way we "beauty". We are part of the sustainable beauty movement, working with our brand partners to continually improve our business and make better choices. We realised that our industry needs to step up and take responsibility for its impact on the planet and one way we are trying to help is to raise awareness and educate wherever possible.
Here at Beautiful Betty we are taking action on our business.
What we are doing;
- Green energy
- Suppliers biodegradable
- Consumables replacing single-use items
- Zero plastic where possible
- Opting for waterless & toxin free Cleaning products
- Super size & refill
We buy British to reduce our carbon foot print of transportation.
We choose independent businesses, enabling better management of supply chains, maintaining continuity throughout.
We have teamed with brands who share our values, who in their own right are making positive change.
We never use anything tested on animals, nor do we choose to work with companies who use 3rd parties who do so on their behalf.
We recycle 98% of our salon waste & 100% of our PPE, making sure it does not reach landfill! It is recycled and repurposed, avoiding shipment containers destined for foreign shores!
We srtive to do the right thing and hold ourselves accountable. Aiming to become carbon neutral with no short cuts, just honest hard work.
From the founder, Haley:
"I decided that I would design a concept Beauty Salon & Beauty Shop of my dreams. After 17 years in the industry as a Beauty Therapist, I decided to go it alone.

In 2015, Beautiful Betty started her journey in a quaint old stable building, just room enough for 1, expanding quickly into a 5 member team and 3 story Beauty Salon & Beauty Shop. Beautiful Betty's desire to provide premium beauty treatments & conscious beauty brands, in an understated luxurious environment, became a reality.
In an ever evolving industry, I felt I wanted to create a concept which fitted into today's modern world. I wanted ethical, conscious and Iintentional beauty that didn't impact on our planet. I spent time researching and sourcing quality British and independent brands which were cruelty Free, vegan friendly and sustainable. Our journey is only just beginning and I'm excited to see where it takes us"